Meet the Ickler Team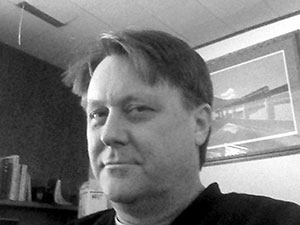 Todd McGonagle, CEO
Todd is CEO of Ickler Company and has been with Ickler since 1989. He graduated from Hamline University in 1986. He loves being part of the St. Cloud business community, and is very passionate about the history of Ickler within it, his grandfather having helped found the company in the 1950s. In his free time, Todd enjoys working with model trains, restoring old boats, cars, and even homes (he restored his own!). On a perfect afternoon, you can find Todd cruising the White Fish chain of lakes in a classic boat – is there anything better?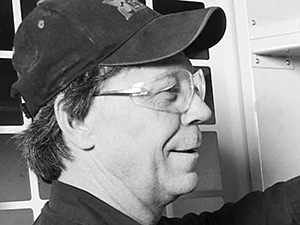 Brian Nelson, Machinist
Brian has been with Ickler since 1992. Brian wears many hats during his day-to-day life at Ickler, including making sure jobs are processed correctly and staying in touch with customers. He especially enjoys walking Ickler customers through the process of how our team found a solution for their project. When he's not working, Brian enjoys fishing, golfing, and tinkering in the garage, working on whatever he can find.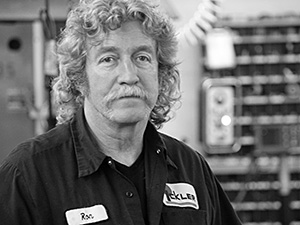 Ron Klinkner, Dairy Manager
Ron is Ickler's manager for the Dairy department, overseeing the Homogenizer and HPP area for the company. He grew up in the St. Cloud, Minnesota area and has been with the company since 1994. When he's not hard at work, Ron enjoys the simplicities of his life: his granddaughters, his motorcycle, and the outdoors. During the summer months you can spot Ron on the lake casting a line or perfecting his garden.
Gene, Machinist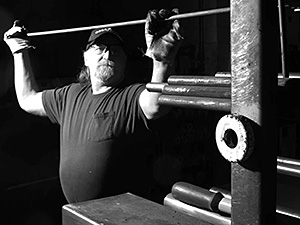 Keith Nelson, Shop Technician
Keith has been a Shop Technician with Ickler since 2002. A welder in the marine industry before coming to Ickler, he brings more than 25 years of welding experience to the team. Keith does a number of different things at Ickler. He helps customers on the phone, cuts steel for our other machinists, builds sanders, helps load trucks, and also helps with the maintenance of our headquarters in St. Cloud. The variety of his work and tasks is one thing that Keith enjoys most about working at Ickler. Outside of work, Keith is a motorcycle lover through and through. Between Keith and his son, they have over a dozen motorcycles, and while he prefers Harley's, he owns many different kinds of bikes. Keith also enjoys being an active part of his family & community. Keith served with the St. Cloud Township Fire Department as a lieutenant for 5 ½ years and was also previously a member of the Lion's Club.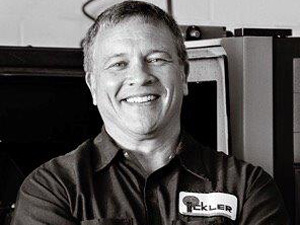 Mike Mattson, Lead CNC Machinist
Mike began his career at Ickler in 2009. After high school, he went on to earn a degree in robotics at Minnesota West Technical College in Granite Falls. Through the years, Mike has worked as a programmer, set-up machinist, quality assurance technician, and machine operator. At Ickler, Mike is our supervisor in the CNC Machining area, where he works on programming for the machines and the quality plans for all items that pass through the CNC Department. In an effort to help Ickler perform at the highest possible level, Mike has also completed extensive work writing programs to better control our inventory. On his own time, Mike is heavily involved in youth sports. He has volunteered as a coach for a variety of teams, having coached basketball for more than a decade, as well as softball and baseball for 5+ years each.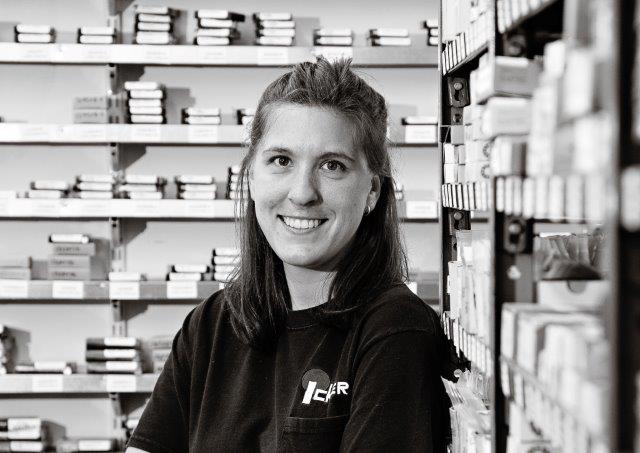 Jennifer Storkamp, Office Manager
Jen has been at Ickler since 2013 and serves as Ickler's Office Manager, as well as our Bearing Specialist. She graduated from St. Cloud Apollo high school and has previous job experience at Champion Auto in Service Writing and Auto Part Sales and at Hennen Furniture where she worked in Accounts Receivable and was an important part of their office/customer service staff. If you swing into Ickler on any given day, chances are you'll see Jen smiling behind the front desk, answering phones, assisting customers, and keeping things up front running smoothly. Jen is also in charge of shipping at Ickler, as well as being our go-to gal for seals and bearings. Jen is very passionate about her family and truly cherishes the time she gets to spend with them. When she's not buzzing around Ickler, she can be found outside gardening, or inside crafting if it's cold or rainy. In the community, Jen is involved as a volunteer at her childrens' school, and both her and her daughter are regular hair donors to the Locks of Love foundation.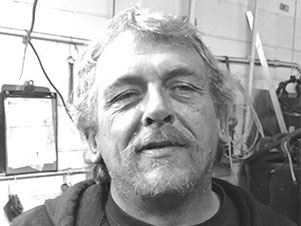 Chad Winter, Welder
Chad joined the Ickler team in 2014, with more than 20 years of welding experience already on his resume. Prior to joining Ickler, Chad worked in construction and as a welder at Polar. He grew up in the Holdingford area and still lives there today. When he's not welding away at Ickler, Chad enjoys spending time hunting and working on & riding his Harley.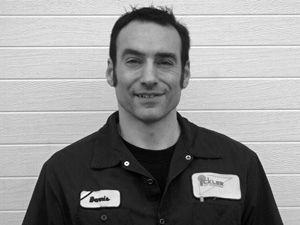 Dennis Lozinski, Dairy
Dennis has been at Ickler since 2005 and is one of our expert mechanics and machinists in the Dairy area. Prior to joining our staff, Dennis was a mechanic at SpeeDee delivery. When Dennis isn't busy in the shop at Ickler, you'll more than likely find him spending time in his garage. Dennis is passionate about cars and motorcycles, and enjoys spending time at swap meets, attending car shows, and motorcycle riding.
Chuck Lahr, Machinist
Chuck joined Ickler in 2011 as a machinist. He attended vocational school for 2 years to study machine shop programs and previously worked at Diversified Machines for nearly 20 years as a machinist. Chuck grew up in the St. Cloud area and still lives here. When he's not spending time with his five grandchildren, Chuck tries to spend as much time as possible on the golf course. Chuck's go-to course is Oak Hill, where he is a member and plays in the men's league.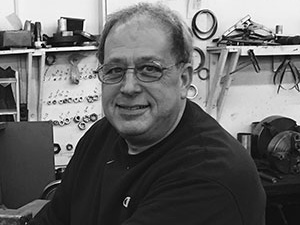 Brian Rapaway, Machinist
Brian joined the Ickler staff as a machinist in 2014.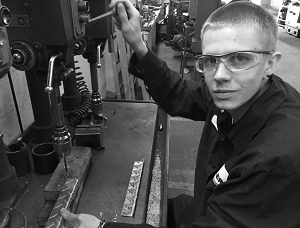 Chris Fredell, Shop Maintenance & Assistance
Chris started at Ickler in 2015 in the role of shop maintenance and general assistance. Originially from California, he has lived in the Melrose area since 2010. He attended St. Cloud Community Technical College for Sales and Marketing, and prior to working at Ickler, he was a Customer Sales & Service rep at Fastenal and worked in HVAC at C & D Heating and Air Conditioning. At Ickler, Chris helps with machine maintenance, keeping things oiled, clean and running. He also helps keep the shop clean, moves equipment around as needed, assists in packaging, and does many other miscellaneous type jobs around the building. On the weekends and in his free time, you'll likely find Chris hanging out with his daughter. They enjoy riding horses together, walking their dog, and relaxing and playing outside.