Better than Brand New - Hybrid
Cylinder Pump Head Conversion
Renew your homogenizer with an Ickler Super Duty Conversion, Hybrid Cylinder Block. This service is available for many older Cherry Burrell, Crepaco, and Gaulin K-Series size 6 & 12 machines. Conversion blocks can also be made for other machines as well, just give the Dairy Department a call and tell us about your needs.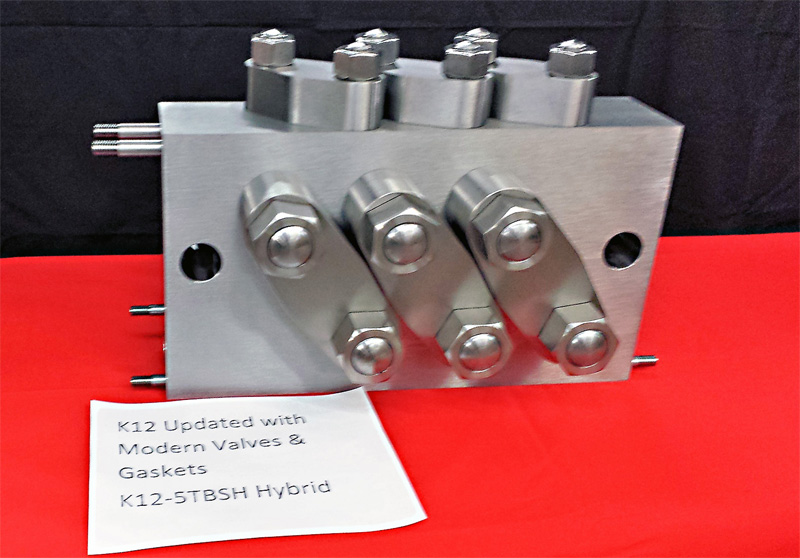 Many Advantages to an Ickler Hybrid Cylinder Block
Thicker, more durable
Uses your existing discharge assembly (whether spray drying or homogenizing)
Industry standard suction & discharge valve seats (easily field-replaceable) and valves
Available in Ball (TBS) or Poppet (TPS) design
Uses modern flat nylon upper & front cap gaskets
Head assemblies are supplied with ALL PARTS necessary to bolt up to your machine and come up to proper pressure. No extra parts to source on your end.
Uses all standard off the shelf factory parts
Ickler supplied parts are fully interchangeable with the Original Equipment Manufacturers parts
Factory part numbers and Ickler part numbers are provided on our Exclusive Exploded View Drawings
Eliminates any guess work when reordering parts.
Available in 15-5 stainless for greater strength, or 316 stainless for greater resistance against corrosion of acidic products